A well-attended rewilding symposium was held at Wageningen University in the Netherlands on September 29. The event's diverse programme was capped by the formal inauguration of Europe's first professor of rewilding ecology.
A dream come true
How does rewilding contribute to ecosystem restoration, how does it correlate with European and national laws and policies, how to include people in rewilding, and how to communicate about rewilding science?
A rewilding symposium held at the end of September at Wageningen University in the Netherlands saw rewilding scientists and experts come together to address these questions from a multi-disciplinary perspective. The event, which followed on from a hugely successful rewilding symposium in 2020, was attended by nearly 300 people in real life, with over 1200 people from 70 countries registering for the online livestream. The symposium was capped by the formal inauguration of Professor Liesbeth Bakker, Europe's first chair in Rewilding Ecology at Wageningen University & Research's Wildlife Ecology and Conservation Group. Bakker began her professorship back in 2020 and is working to progress rewilding's scientific agenda and enhance rewilding outcomes.
"It's a dream come true for me to be officially recognised as Europe's first rewilding professor," says Bakker, who chaired the symposium, together with Raquel Filgueiras (Rewilding Europe's Head of Rewilding) and Frank van Langevelde (Wageningen University & Research). "Today there is an urgent need to create more room for nature, with rewilding at scale offering opportunities to  address our biodiversity and climate emergencies. It is exciting to be part of this and to support rewilding practice with science to bring about change."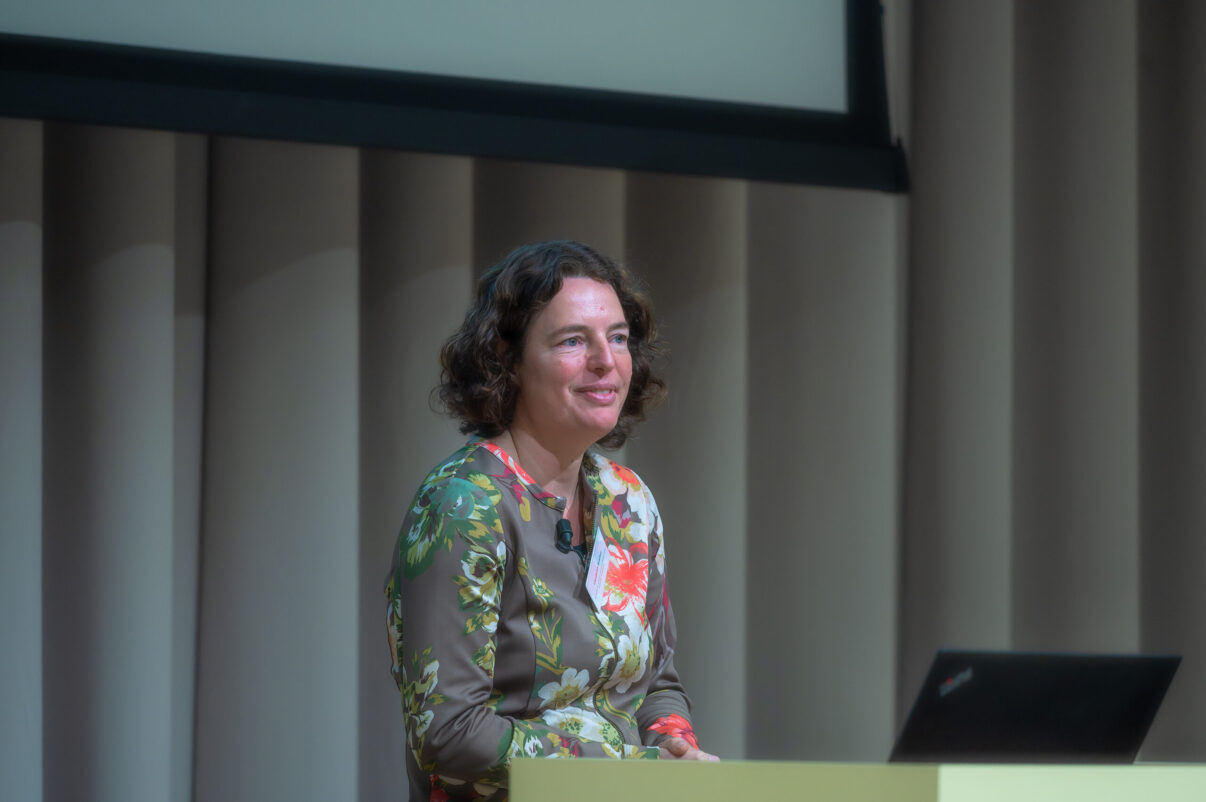 Diverse presentations
Featuring a range of presentations and imagery, the symposium was filled with information and inspiration for scientists, policy-makers, practitioners, and all those interested in the burgeoning field of rewilding. Those who attended also had the opportunity to enjoy a captivating exhibition of work by Lisa Sánchez Aguilar – the scientific illustrator and graphic designer from Costa Rica is currently researching how to visually communicate the rewilding of European bison and also gave a presentation.
The symposium's roster of speakers (and their subjects) also included Rewilding Europe's Executive Director Frans Schepers (rewilding European landscapes from a people's perspective), BirdLife Europe and Central Asia's Nature Restoration Policy Officer Sofie Ruysschaert (the EU's Nature Restoration Law), and Tilburg Law School's Arie Trouwborst (megafauna population restoration).
"With speakers from a wide range of backgrounds, the symposium was really transdisciplinary, which is what we intended," says Liesbeth Bakker. "We also wanted to highlight the need to combine art and science in order to make the rewilding narrative as compelling as possible. It is one thing to provide scientific data as a foundation for rewilding, but really engaging people is a matter of the heart. The symposium's lectures, which were accompanied by short movies, virtual reality imagery, and an on-site exhibition, were really special in this regard."
An inspiring conclusion
In her inaugural presentation, which came at the end of the programme, Bakker addressed the ecology of rewilding landscapes in aquatic and terrestrial habitats, the science of rewilding, and the opportunities of solving multiple crises at once, including biodiversity decline and climate change, using a rewilding approach.
"As a speaker, I really felt the energy of the audience in a fully packed auditorium with more than 300 people, not even counting the online participants," says Bakker. "It was so inspiring to feel part of a strong rewilding movement."
Want to know more?