Officially launched today in the spectacular surroundings of the medieval Spanish city of Cuenca, the Iberian Highlands Rewilding Landscape marks a major milestone for Rewilding Europe, adding a further 850,000 hectares of land to help upscale rewilding efforts across Europe.
Ripe for rewilding
The vast area forms part of the Southern Iberian Chain – a 500km-long mountain range that stretches between the Cantabrian and Mediterranean regions of central-eastern Spain. The rewilding landscape consists of three contiguous and protected core areas: Serrania de Cuenca, Alto Tajo and Montes Universales, along with other areas protected as Natura 2000 sites.
It holds enormous rewilding potential. The high levels of land abandonment and one of the lowest human population densities in Europe provide opportunities to give more space back to nature. And although some key species are missing – such as the Iberian wolf – the relatively rich biodiversity is a great starting point for further growth of the tourism sector. The landscape already holds two Nature Parks, one Nature Reserve, two Micro-Reserves, nine Natural Monuments, one Ramsar site and eleven natural river reserves.
Following an initial grant from the Endangered Landscapes Programme, a preparatory project was kickstarted in September 2019 to explore this potential through a partnership coordinated by Rewilding Europe. It included the participation of the Spanish associations, Terra Naturalis, Micorriza, and the Foundation FIRE. From this, an exhaustive and ambitious Rewilding Plan was devised to support wildlife comeback, the recovery of ecological processes, habitat restoration and the creation of a network of nature-based enterprises throughout the landscape.
Strong partnership
With funding now secured to implement these actions, the Iberian Highlands' rewilding journey has begun with a three-year strategy now in place, driven forward by four partners. Rewilding Europe is responsible for overseeing the initiative, with Rewilding Spain – the local partner of Rewilding Europe – leading the groundwork, having already assembled a local team.
Terra Naturalis will provide local expertise for proposed wildlife reintroductions, and Asociación Micorriza is another local organisation tasked with the implementation of natural grazing and educational programmes.
A holistic approach
The rewilding of the Iberian Highlands takes into consideration three focal points:
It is a vision that includes establishing a network of core protected areas for nature to enhance biodiversity and ecosystem function; building more climate resilience into the landscape through mitigation and adaptation; and having a positive impact on people by presenting ecosystem services and socio-economic opportunities.
Ecological integrity will be restored through a focus on re-establishing more scavenging across the landscape, with a cinereous vulture reintroduction in development, along with actions to support the natural recolonisation of bearded vultures, and a habitat feasibility study to be carried out for the eventual release of captive-bred red kites. There are also plans to reintroduce the missing Iberian lynx back to the top of the food chain and to restore natural grazing in arid and fire-damaged areas – as well as revitalising rivers and restoring lagoons in steppe habitats. Food chains will become whole once again with natural processes reinvigorating the land in myriad ways through predation, scavenging, natural grazing and dispersal.
The Iberian Highlands rewilding landscape will also benefit socially and economically from a new vision to create more resilient forest landscapes through the protection of old-growth forests using different compensation schemes, as well as working with municipalities and businesses to create added value for the carbon-capturing power of forests. A Landscape Business Plan will be compiled to identify new opportunities for nature tourism. And alongside the ecological connections being made, social connections will be formed that will enable local people to be part of the landscape's regeneration. Nature-based initiatives will become the backbone of revived local economies, with support and engagement with rewilding activities engrained at a local, regional and national level.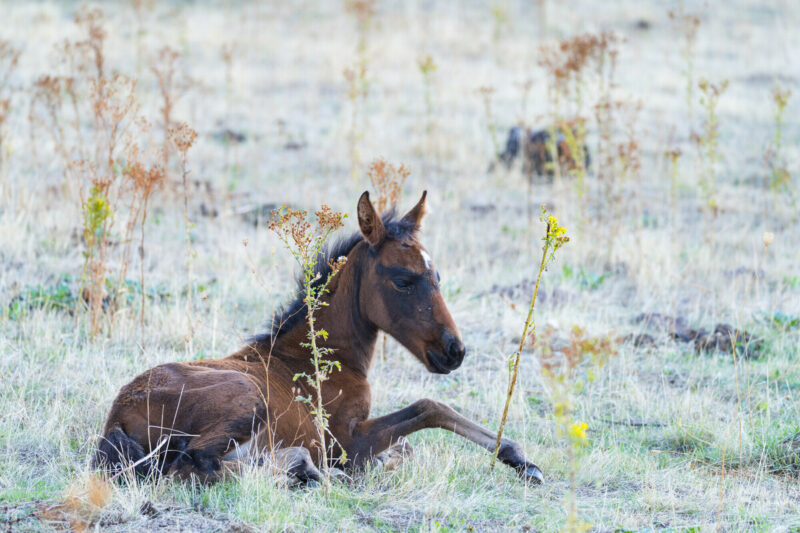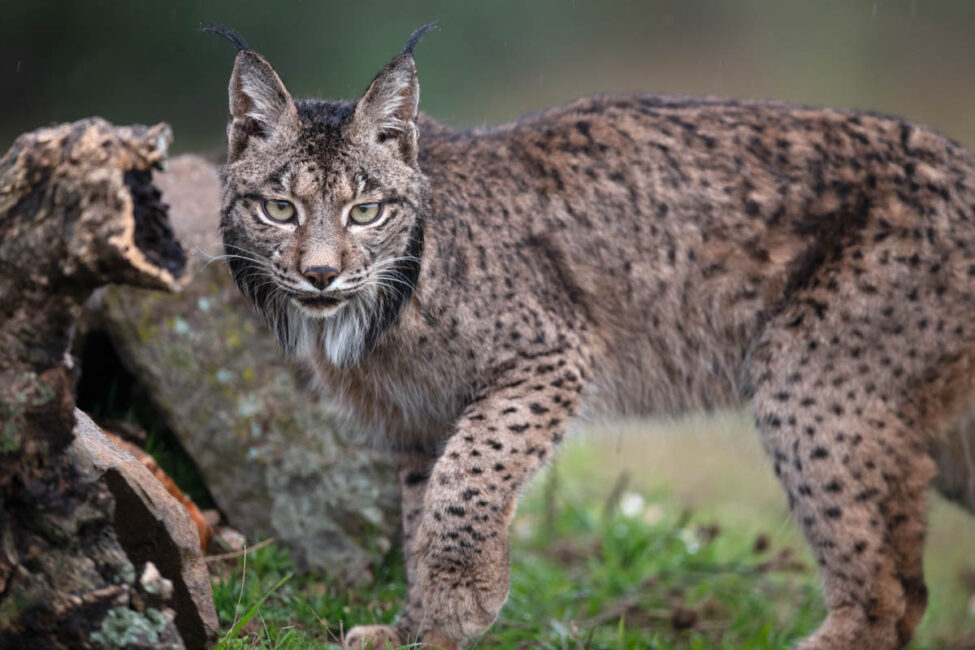 Hooves and wings on the ground
Important initial rewilding actions have already been carried out over the last year by the team in the landscape. Natural grazing has stepped up a gear following the release of a herd of Tauros in Frias de Albarracin, and semi-wild horses are settling in well to the 1,485 hectares of the Dehesa de Solanillos in Mazarete. This action has seen 11 horses released this summer, with the first foal born at the end of July. Further releases are planned this year to take the population over 20.
A Cinereous vulture reintroduction is already underway at Alto Tajo in collaboration with the regional government of Castilla la Mancha and Terra Naturalis. On 15th September seven were released from an aviary, having spent several months acclimatising. All of the birds have been fitted with GPS transmitters to track their movements. And efforts to attract bearded vultures to the rewilding landscape for eventual recolonisation have begun, with specific feeding points now well established and monitored with nine camera traps.
"We have a great opportunity to demonstrate that sustainable socio-economic development is possible for the Iberian Highlands, where rewilding benefits local communities and brings hope to an area where pessimism reigns due to the economic and demographic decline suffered over the last few decades" says Pablo Schapira, Team Leader of Iberian Highlands.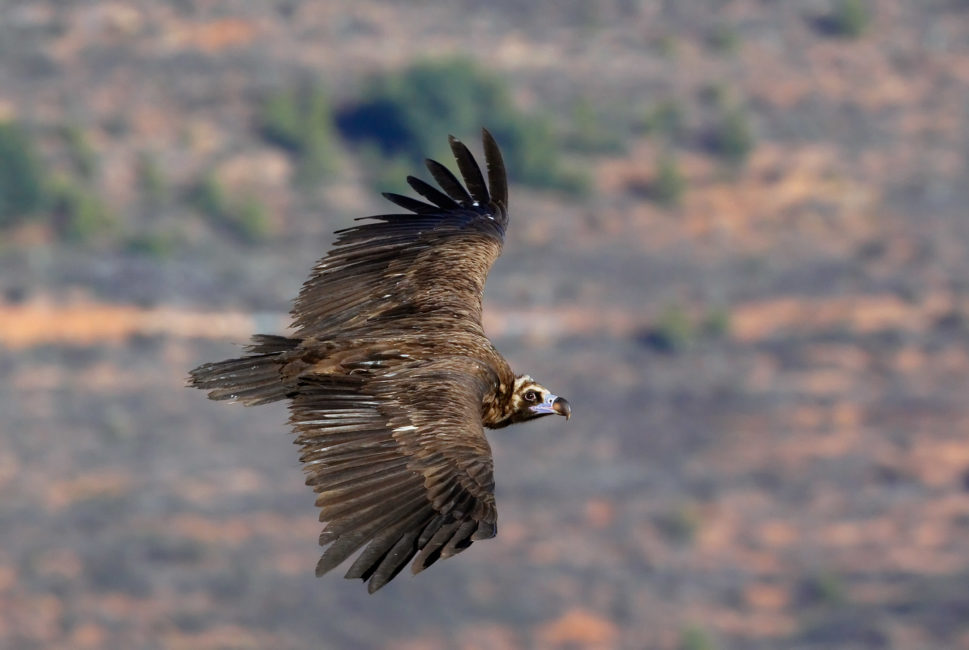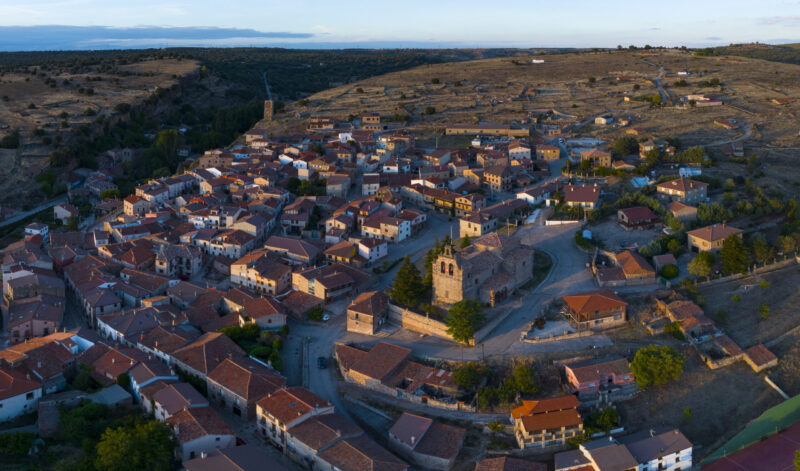 Long-term commitment
Developing a large, multifunctional rewilded landscape takes time, and Rewilding Europe and Rewilding Spain's vision for the area stretches beyond at least 20 years in order to bring all of the proposed actions to fruition, and create a truly resilient landscape in an ecological, economic and social sense.
With the first actions already implemented, a committed team in place, funding and a long-term strategy, the Iberian Highlands is ready to showcase how nature restoration can lead to a landscape richer in nature, more resilient to climate change, while providing myriad benefits to people.
''Spain has huge potential for rewilding'' says Frans Schepers, Executive Director of Rewilding Europe. ''I hope Iberian Highlands will become an inspiring example for other organisations, municipalities and landowners in Spain to follow its approach to demonstrate the benefits that it can bring to both nature and people".
Want to know more?